The New Zealand Dairy Industry
On farm innovation helps the New Zealand dairy farmer to work smarter, not harder and also allows New Zealand to maintain its position as a leader in on-farm productivity. With annual exports in excess of $17 billion the dairy industry is New Zealand's biggest export earner. More than 18 billion litres of milk are produced annually on New Zealand's 12,000 dairy farms which collectively, contain 1.7 billion kilograms of milk solids (protein and fat).
World-class dairy industry
An established global industry with an exciting future, New Zealand dairy companies control one third of international dairy trade, and New Zealand remains the largest exporter of dairy products. Key strengths of New Zealand's world-class dairy industry are its efficient all-grass farming system, large-scale processing, high research and development investment and creative marketing.
World Dairy Demand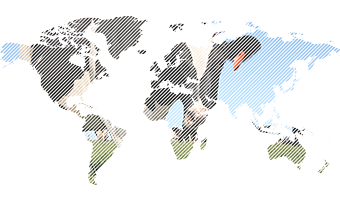 It's well reported that during the next 50 years, food production must double to meet the world's growing population and demand for high protein foods. On top of this, is an increasing demand from a growing middle class in emerging economies such as Asia who are demanding more high quality dairy foods. To cater for this, the world's food producers must increase productivity using the best farm practices and techniques. New Zealand is a pioneer in on-farm efficiency and its products are well regarded by world standards; this demand underpins the huge growth in dairy production in New Zealand.
On Farm Technology
Farms in New Zealand are now more sophisticated with many business operations employing a range of high-technology systems to help in decision making, budgeting and overall productivity. These are used for virtually all aspects of farm management including; weather stations, soil testing, pasture analysis, feed management, animal management and many other farm performance indicators.
Skills Needed
Increasingly farmers have recognised the need to have skilled people who want to learn the business. Career progression in the dairy industry helps people to develop their knowledge and skills to gain increasing responsibility. Many of the skills are learned on the job and through courses such as NZDP, PrimaryITO and industry organised discussion groups. The National Certificate, National Diplomas and other tertiary qualifications in Dairy Farming are invaluable for anyone pursuing a career in the industry.
Quality Careers
The New Zealand Dairy Industry encourages smart self-starters who wish to embark on a rewarding and satisfying career. Successful dairy farmers, like successful people in any industry, are prepared to put the effort into their staff. For people with the commitment and desire to succeed, a career in dairy farming is an option which can be extremely satisfying, enjoyable and financially rewarding. The recent trend towards larger farms and larger herds means there are now more employment and career options for anyone wanting to enter the dairy industry.
Rags to Riches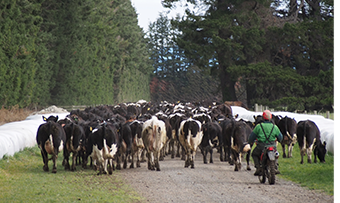 There are many rags to riches stories in New Zealand dairy farming. New Zealand has developed a unique low capital entry model to dairy farming known as share-milking. Most self-made dairy farmers start as farm hands, work their way up to share-milking (a business model where share-milkers own the herd and the share-milking business.), developing a productive herd over time through breeding and buying in additional stock. This is a low cost, low risk way of building wealth that can lead to farm ownership.
The Future
Genetic selection for pasture varieties will go hand-in-hand with the genetic identification of the most efficient dairy cow, leading to a leap forward in farm production efficiency.
The dairy industry is continually coming up with innovative ways to use resources more efficiently so that our milk is sustainable. Every innovation introduced on farm, which can lower our environmental footprint gives New Zealand's milk a competitive edge.
A more coordinated approach to supporting staff training will ensure New Zealand dairy farmers continue to innovate and apply new technologies and maintain their worldwide leadership of pastoral farming.
World class research, by scientists who understand dairy farming will continue to advance the productivity and sustainability of the New Zealand industry.
Share-milking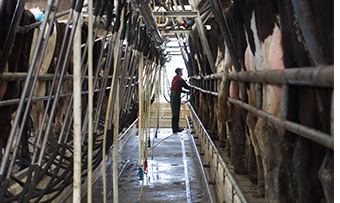 The share-milking system is unique to New Zealand. About 40% of our dairy farms operate using the structure of share-milking. This is where share-milkers own their own stock and farm them on their employer's property, splitting the revenue and expenses, hence the term 'share-milking".
There are two types of share-milkers. Variable order share-milkers: where the share-milker may own part of the herd, employs the staff and pays a percentage of the costs, and receives a percentage of the income. Or, 50/50 share-milkers: where the share-milkers own the herd, employ the staff and supply the tools and machinery to run the farm. Profits are shared equally with the owner of the dairy farm. This means a share-milker can often start with a fairly small investment and build up assets because he or she shares in the profits and gains the benefits of his or her hard work and skill.
Share-milking allows younger dairy farmers to gain a stake in the industry and to use their skills to build their assets. It also allows farm owners to reduce their active involvement in dairying as they get older or their life circumstances change.